RAEME COMMEMORATIVE COIN PRESENTATION
Former HOC and current Representative Colonel Commandant/Honorary Colonel , Vic and Tas,
BRIG D. McGahey, recently presented the RAEME Commemorative Coin to Mrs Yvonne
Sullivan, widow of LT. COL. W.E. Sullivan, who passed way in December last year.


The RAEME Commemorative Coin was struck on the initiative of the current HOC, Brig Andy
Mathewson, with its introduction overseen by the RAEME Corps Committee. It features the
Corps crest and a stylized motif of the RAEME badge on its two faces, with the HOC
presentation details around the rim.

The purpose of the coin is a personal gift to recognise exemplary service to the Corps given by
serving members and also as a presentation to widows of former members and/or their families to
acknowledge the member's service to the Corps and to express our sympathy for their loss.

Each coin will be presented by either the HOC, the Representative Colonel Commandant or
Honorary Colonels, the latter having a stock of coins for presentation on request.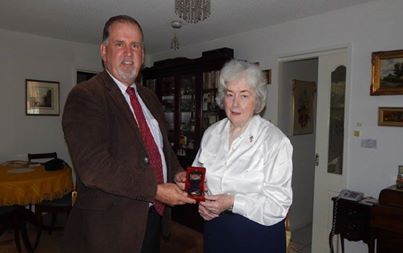 Representative Colonel Commandant/Honorary Colonel, Vic and Tas, BRIG D. McGahey,
recently presented the RAEME Commemorative Coin to Mrs Yvonne Sullivan, widow of
LT. COL. W. E. Sullivan