"ARTE et MARTE"
(With Skill & Fighting)
Welcome to the web site of the Royal Australian Electrical and Mechanical Engineers (RAEME) Association New South Wales Inc. Our Association became incorporated on the 19th July 1994.
Our main aim is to preserve the memory of service comrades, maintain the fellowship between current and past serving members of the RAEME Corps, and to promote the welfare of our members and their dependants.
RAEME RESERVE / CMF REUNION 2021
QUEENSLAND
The Annual reunion is open to all serving and ex members of RAEME (Army Reserve/CMF or Regular Army) or associated Corps who served with RAEME Res/ CMF units, their families and other people who were associated with RAEME and who wish to renew past friendships. Ex cadre staff members most welcome.


If you know of anyone interested in attending who may not be aware of the function could you make an effort to pass on this information.
RENEW YOUR MEMBERSHIP
Step 1: Navigate to https://nsw.raeme.org.au in your favourite web browser.
Step 2: Click Login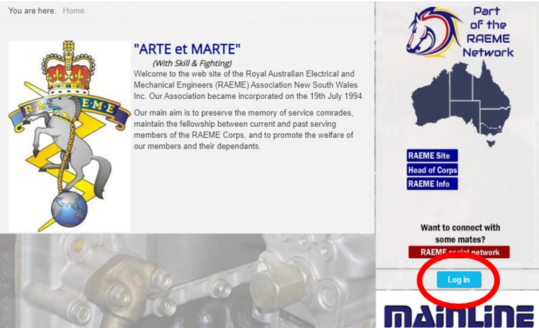 2021 CALENDAR *
16 September – Committee Meeting & Casual Luncheon, Club Redfern
2/159 Redfern Street Redfern
21 November – Corps Birthday/Christmas Luncheon Campbelltown
Catholic Club.
20-22 Camden Road Campbelltown
2 December – Committee Meeting & Casual Luncheon, Epping RSL Club
45-47 Rawson Street Epping
* All locations subject to confirmation
Search