"ARTE et MARTE"
(With Skill & Fighting)
Welcome to the web site of the Royal Australian Electrical and Mechanical Engineers (RAEME) Association New South Wales Inc. Our Association became incorporated on the 19th July 1994.
Our main aim is to preserve the memory of service comrades, maintain the fellowship between current and past serving members of the RAEME Corps, and to promote the welfare of our members and their dependants.
RAEME CHRISTMAS/CORPS
BIRTHDAY FUNCTION
(All ranks)

The RAEME Association NSW Inc. invites you to join us at the above function to celebrate our Corp 79 th birthday and Christmas 2021

WHEN: Sunday 21st November 2021
WHERE: Campbelltown Catholic Club 20-22 Camden Rd Campbelltown NSW
Lachlan Macquarie Private Function Room - disabled/ lift access
Note: All guests will be required to sign into the Club (photo ID)
TIMINGS: 1200hrs for 1230hrs
Lunch served 1300hrs
COST: $55 per person
Will include a complimentary beer, wine or soft drink on arrival
MEAL: Lunch will be a 2 course meal with full table service.
Followed by celebration cake tea and coffee
Please advise of any special dietary requirements or allergies
DRESS: Smart Casual. Normal club dress standards apply
INVITEES: All members and all ranks of the Corps past and present and partners
RSVP: Notice of attendance and payment by 29 Oct 2021
SEATING: Will be tables of 8
If you wish to organise a full table it will be reserved for your party
All personnel intending to attend the Luncheon must have received both their COVID-19 Vaccinations.
RENEW YOUR MEMBERSHIP
Step 1: Navigate to https://nsw.raeme.org.au in your favourite web browser.
Step 2: Click Login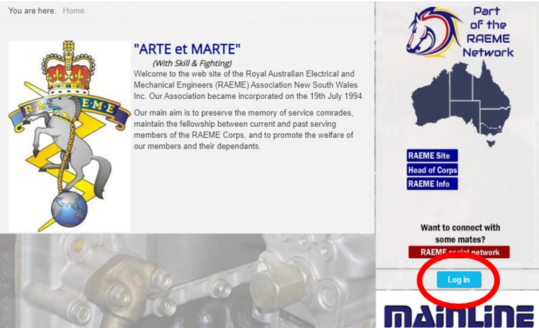 2021 CALENDAR *
21 November – Corps Birthday/Christmas Luncheon Campbelltown
Catholic Club.
20-22 Camden Road Campbelltown
2 December – Committee Meeting & Casual Luncheon, Epping RSL Club
45-47 Rawson Street Epping
* All locations subject to confirmation