"ARTE et MARTE"
(With Skill & Fighting)
Welcome to the web site of the Royal Australian Electrical and Mechanical Engineers (RAEME) Association New South Wales Inc. Our Association became incorporated on the 19th July 1994.
Our main aim is to preserve the memory of service comrades, maintain the fellowship between current and past serving members of the RAEME Corps, and to promote the welfare of our members and their dependants.
2022 PROPOSED CALENDAR
15 September - Committee Meeting & Casual Luncheon, Campbelltown RSL Club - 1 Carberry Lane Campbelltown
24 November – Committee Meeting & Casual Luncheon, Ingleburn RSL Club - 70 Chester Road Ingleburn
1 December - Corps Birthday BBQ, Ingleburn RSL Memorial Park - 70 Chester Road Ingleburn
RENEW YOUR MEMBERSHIP
Step 1: Navigate to https://nsw.raeme.org.au in your favourite web browser.
Step 2: Click Login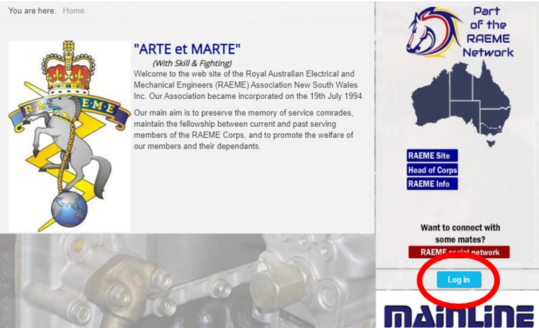 REMEMBRANCE GATHERING FOR RUSS STANLEY



To celebrate and remember the life of our mate Russ Stanley there will be gathering of his family and friends.
Saturday 6th August, commencing at 11 AM Ingleburn Bowling Club
8 Memorial Ave Ingleburn
This not a memorial service, but a gathering of friends.